Geology is a fascinating field involving the study of some of society's most pressing issues, including access to clean water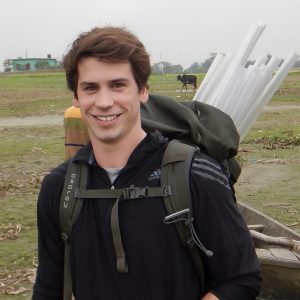 That's the view of Tom Varner, 2019 geology graduate from Ole Miss.
He is now an environmental science and engineering Ph.D. student at the University of Texas at San Antonio – and he's working on National Science Foundation-funded research.
The study examines how arsenic is being released and captured in the Meghna River in Bangladesh. Dense populations and lack of sanitation practices in the region result in contaminated water.
Varner says that "with no safe alternatives for drinking water, this research will further the understanding of the processes controlling the fate and transport of arsenic. This is imperative to providing possible solutions."
Discovering his passion
Varner's interest in geology began when he was hiking in Spain in 2015. He realized that he could merge his passions for science and the natural environment in geology.
He explains: "As the human population grows, there is an increased strain on our relationship with the natural environment. Problems such as climate change, energy, mineral resources and water resources are all addressed through the study of geology."
Undergraduate research
At Ole Miss, he pursued research to determine the Mississippi River's age and tectonic environment of origin. Under the guidance of associate professor Jennifer Gifford, he studied the extremely durable mineral zircon, which can provide age patterns.
Varner highlights that "Dr. Gifford encouraged me to attend conferences to present my research and assisted in the processes of writing an internal grant to help fund the research. Both are crucial components of conducting research studies."
He adds: "The ability to conduct research as an undergraduate set the stage for my future, allowing me to apply the knowledge from courses to help answer research questions in the field of geology."
What's next?
After completing the Ph.D. program, Varner plans to pursue a career involving the management and protection of water resources.
"Water is required to sustain life and is a basic human right. I would love to be in a position where I would be able to work towards providing clean and reliable drinking water for afflicted communities."
Helpful info
Geology and Geological Engineering
Research at Ole Miss Engineering
More alumni stories