Take the next steps towards planning your future with our career fairs, engineering events and job search assistance
---
Career fairs and campus visits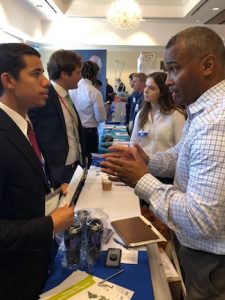 Each year we'll help you connect with the 100-plus employers who look to Ole Miss to employ engineering and computer science students for their full-time positions, co-ops and internships. That could be through our bi-annual career fairs, company info sessions and hands-on events.
Job search preparation
You can take advantage of our wide range of workshops – they cover everything from resume writing to interview skills to networking strategies (online and face-to-face). And, with our senior course on leadership skills, you'll get guidance from business, academic and military] professionals on how to deal with real-world work situations.
Job postings
We'll keep you up to date with the kind of jobs that might be right for you.
LinkedIn – join our private LinkedIn group for students and alumni to make connections and hear about potential positions.
Ole Miss Career Center – access university career resources and filter job opportunities to your interests.
Email notifications – receive the heads up about relevant jobs from the engineering careers services team.
Helpful links
University job search – for Ole Miss students only
Co-ops – get on-the-job experience
Employers – find out how to recruit our students
---
Contact
Megan Upchurch Miller
Assistant Dean, Undergraduate Programs
Brevard Hall 215
662-915-5699
megan2@olemiss.edu