Ben Savino supported professor Wen Wu at the Center for Turbulence Research, working alongside researchers from around the world.
September 2023
Elsie Buskes' water sourcing internship with the National Center for Physical Acoustics led to her receiving this scholarship – the sole  undergrad recipient this year.
August 2023
Rafaelle Souza excelled both on the field and in the classroom while at Ole Miss. Now you'll find her at the 2023 Women's World Cup as the captain of the top-ten Brazil team.
July 2023
Five civil engineering students came up with a prize-winning approach to clean contaminated water for re-use. Using worms!
June 2023

Thomas Oommen brings his expertise in remote sensing and AI/machine learning to assess and monitor geohazard and infrastructure risks.
May 2023
Tipton, TN native Stanford White will be exploring ways to enhance flexible electronics – essential for wearable devices and soft robotics.
May 2023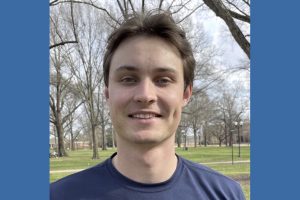 General engineering senior Preston McWilliams excels in engineering and beyond. Next stop:medical school (after a much-deserved break!).
April 2023

Dr. Viola Acoff will be joining the team this summer – bringing a wealth of research and academic experience from the University of Alabama.
March 2023
Dr. John Parmentola from the Rand Corporation explains to UM students and faculty what is slowing down the pace of innovation.
March 2023
Dr. Cris Surbeck received the ASCE's Margaret S. Peterson Award for her exemplary service to the water resources and environmental science and engineering community.
February 2023
Biomedical engineering student Abigail Moeller explains how her involvement in several programs – in school, on campus and abroad – will further her career goal as a researcher.
February 2023
Dr. Ahmed Al-Ostaz, civil engineering professor and director of Center for Graphene Research and Innovation, led a team of faculty and students to the Puzzle X conference.
December 2022
Maisha Sadia shared top place in the Graduate School's Three Minute Thesis competition. She explains how chaos theory can be used to prevent hackers from breaking into computers. In three minutes.
November 2022
Nikki Reinemann wants to understand how the body adapts to stay alive. Her research could be a foundation for developing tools to combat cytoskeletal diseases such as cancer and heart disease.
September 2022
Mirela Ovreiu, instructional assistant professor, was one of 33 to join the Jewish National Fund's Faculty Fellowship Program, designed to boost collaboration between Israeli and US institutions.
August 2022
Mechanical engineering graduate student Ben Savino is studying turbulent fluid flows to see if/how planes can be faster and more fuel efficient.
June 2022
Assistant professor Wen Wu's work has all sorts of potential implications for industrial design – particularly in regional aerospace and naval industries.
May 2022

Carly Huguley, Brennan Power and John Martin Paczak received the year's top engineering awards – highlighting their strong academic  and service records.
April 2022 
Assistant professor  Thomas Werfel plans to use this $600,000 research grant to create biomaterials for more targeted vaccines and cancer treatments.
March 2022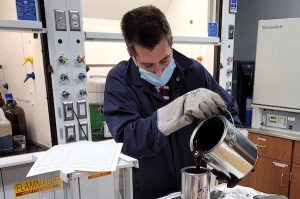 The Center for Graphene Research and Innovation is partnering with ERDC, Jackson State and Rice University to explore graphene's potential in advanced materials and infrastructure.
February 2022
Dean Dave Puleo has been inducted as a fellow of the National Academy of Inventors in recognition of his research into regenerative biomaterials.
December 2021
Graduate student Parker Brewster received top place (and £10,000!) for his proposed plaquectomy – a device designed to safely remove plaque from arterial walls.
November 2021
Assistant professor Nikki Reinemann is using prestigious grant from the American Heart Association to research the underlying causes of heart disease.
October 2021
Students can pursue mathematics at Rust College for three years and follow up with two years at Ole Miss Engineering – gaining degrees from both institutions.
July 2021
Civil engineering professor Cris Surbeck provides a much-needed framework for
in
vestigating and cleaning up contaminated sites.
June 2021
Our Rocket Team is part of NASA's Space Grant program – getting hands-on experience in the build, test and launch activities used by professionals.
May 2021
Alumni Sieg Shalles (1971)  and Rowan Baird (2019) share their experiences in pursuing a career in the military services.
April 2021
Susan Dio, 1983 chemical engineering graduate, wants to encourage her two passions: women in engineering and manufacturing.
March 2021
The American Society for Engineering Education's diversity recognition program awards schools that build the infrastructure to support diverse student and faculty populations.
February 2021
The Mississippi Engineering Society honors 2015 civil engineering graduate Hannah Prater Denson for her work to bring STEM kits to her local elementary school in Jackson, MS.
January 2021
Research by our Dr. Wen Wu and professors at Johns Hopkins University explores the dynamics of airborne transmissions of COVID-19. Distancing works. (Graphic: Marissa Lanterman/Johns Hopkins University)
December 2020
Several engineering alumni are working with electric cooperatives to deploy fiber to provide high-speed broadband internet service to unserved and underserved areas of rural Mississippi.
November 2020
Two biomedical engineering professors at Ole Miss might have found a way to provide chronic relief to people suffering from severe depression: a small implant that provides intermittent drug doses.
October 2020
Big data is fueling new jobs and technologies worldwide. Ole Miss' institute will instruct students on how to ethically apply data science to advance knowledge, enable enterprise and improve society.
September 2020
New York native John Finnegan talks about why he chose Ole Miss Engineering and what he's learned from his co-op experience with Parker-Hannifin. "Ole Miss is great for the intangibles that an engineer needs."
August 2020
Arunachalam Rajendran, mechanical engineering chair and professor, has been honored for his sustained excellence at Ole Miss. This is in recognition of his internationally known research and his dedication to his students.
July 2020
NFL pro Wesley Walls (general engineering 1991) and his wife established an engineering scholarship geared toward high-achieving students who played sports in high school.
May 2020
IT specialist Courtney Cadiz (BSME 19) received the CEO award from International Paper for her work on a substantial cost-saving project. She worked at IP as an intern – an experience she encourages.
May 2020
Coronavirus, COVID-19, uncharted territory, social distancing, flatten the curve, course conversion, Zoom meetings. These words are now forever ingrained in our vocabulary. Our Engineering community has been tremendous during these trying times….
April 2020
Adam Vonder Harr (BSEE 2014) works as a football research analyst, helping with everything from scouting and personnel decisions to assisting coaches with game planning  and player health.
March 2020
The Mississippi Mineral Resources Institute (MMRI) and Department of Geology and Geological Engineering at Ole Miss are undertaking a geologic mapping and drilling project in Charleston, Mississippi – that'll help identify economic resources and contribute to scientific research in the region.
February 2020
Alyssa Revis (BSChE 2013) says that the academic and financial support from Ole Miss led to her successful career at Exxon. Check out how she and her husband Jesse are giving back to their alma maters, helping chemical engineering students. Read more…
January 2020
Computer science major Rowan Agrawal was one of four U.S. students awarded a scholarship to attend a UN summit on food security in Rome. He discussed the role of technology in dealing with poverty and hunger with global leaders. Read more…
January 2020
We're happy to have Charlie Walter join the team. He'll be looking at the challenges of keeping personal data safe – especially in a world of Bluetooth and wearables.
John Brasher (BSChE 12) researches wastewater remediation, nanomaterials and more for use by the U.S. Army Corps of Engineers. He says: "You ask yourself the 'why' question over and over until you reach the true point of failure or core problem. I fell in love with this – the ultimate field of 'why's.'" Read more…
December 2019
Briana Dortch, a senior from Memphis, enriched her studies by interning at St. Jude where she helped create programs to diagnose noninsured patients faster and more cheaply. And, to learn about the corporate world, she interned as an IT business consultant for International Paper. Read more…
December 2019
Four Ole Miss students attended the national SWE conference in California last month – and three walked away with job offers. And, SWE events on campus give students the opportunity to hear from alumnae what it's like to transition from college to the workplace. Read more…
December 2019
Jeffrey Ferguson, 2012 mechanical engineering graduate, has pretty much spent the last decade trying to break the 300 mph barrier in a 5,000-pound Trans Am. Read about his journey…
November 2019
Kaylin Brassfield's company for video games and graphic novels aimed at a young female market won her the first-place award in the 2019 Mississippi New Venture Challenge. A senior computer science major, Brassfield received $4,500 in funding to support her startup. Read more…
November 2019
Lance Yarbrough, assistant professor of geology and geological engineering at Ole Miss, spent much of his summer 600 feet below the Hudson River. He was working on a project to build a 2.5-mile-long bypass tunnel for the Delaware Aqueduct, which provides about half of New York City's water. Read more…
November 2019
With every step of Leah Timmons' journey at the University of Mississippi comes a reminder of the words of encouragement her father left her years ago. "He was the one who always told me I could accomplish anything I set out to do." Proving him right, she's majoring in international studies and chemical engineering with an emphasis in manufacturing. Read more…
November 2019
Helpful info
Ole Miss Engineer – our annual round-up of school and department highlights