We are committed to promoting a culture of diversity, equity and inclusion throughout our constituencies
"The innovation and creativity fostered through diverse teams representing different backgrounds, perspectives and life experiences are needed to address engineering challenges of the 21st century and to advance our state," stressed Dave Puleo, Ole Miss engineering dean.
How we are taking action
The school chapters of the National Society of Black Engineers and Society for Women Engineers help promote academic and professional success. This includes activities such as community outreach and alumni sharing their experiences.
Alumni have been endowing scholarships for students who demonstrate a commitment to the advancement of women and minorities in engineering.
The school has developed a targeted equity-in-action plan to create diverse workforce pipelines toward engineering careers. To make sure it happens, the plan outlines accountability and metrics for success.
"The hard work is just beginning, however; our equity-in-action plan lays the foundation for the accomplishments we seek and the progress we hope to achieve" said Alexander Lopez, the school's diversity liaison and assistant professor of chemical engineering.
---
Professors who are pushing for diversity
Assistant professor Nikki Reinemann won the university's Diversity Innovator Award thanks to her passion for encouraging underrepresented students in STEM. 
---
Gaining bronze-level recognition for diversity efforts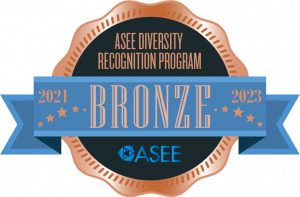 The American Society for Engineering Education (ASEE) awards schools that build the infrastructure to support diverse populations, have at least one student pipeline activity and commit to a diversity and inclusion plan. We join almost 120 engineering schools in the ASEE's Diversity Recognition Program.
The program recognizes those engineering and engineering technology colleges that make significant, measurable progress in increasing diversity, inclusion and degree attainment outcomes of their programs.
To receive the bronze recognition, schools must:
sign the diversity pledge
build the infrastructure to support diverse populations
sponsor at least one K-12 or community college pipeline activity
commit to a diversity and inclusion plan that includes measurable goals
The association plans to award silver and gold status in the future.
---
Helpful info
Pathways to Equity – the University of Mississippi's strategic plan for diversity, equity and inclusion
ASEE Diversity Recognition Program