Ole Miss wants you to succeed: our tutors can help you better understand core engineering topics
You will find that our tutors are proficient in their subject matter and can answer most of your questions.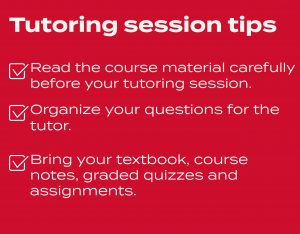 However, they are students so they might not be able to answer every question and can't re-teach course material. It is best to ask your instructor any advanced questions.
Free tutoring sessions (fall and spring)
Engineering
309, 310 and 321(Web 1)
Subjects
Statics, Engineering analysis, Thermodynamics
Taught by
Teaching assistants
Location
Brevard Hall 238
Time
Tuesday
6:00 - 8:00
Engineering
312, 323 and 360
Subjects
Mechanics of materials, Fluid mechanics and Circuit theory
Taught by
Teaching assistants
Location
Brevard Hall 238
Time
Wednesday
6:00 - 8:00
Math
115, 120,121, 123, 125, 167, 261, 262, 263, 264, 267, 268 and DS 099
Subjects
Elementary Statistics, Quantitative Reasoning, Algebra, Calculus, Math for Science & Engineering, Trigonometry, Analytic Geometry

Taught by
Teaching assistants
Location
Hume Hall
Rooms 324 and 326
Time
Monday to Friday
9:00 - 5:00
Computer science
Subjects
All computer science courses
Taught by
Justin Cucuzza or Olivia Columber
Location
Weir Hall - Adler Labs
Time
Monday 9:00 - 12:00, 2:00 -5:00
Tuesday 3:00 - 5:00
Wednesday 9:00 - 11:00, 2:00-5:00
Thursday 3:00 - 5:00
Friday 9:00 -12:00
Other core subjects
Subjects
Calculus, Chemistry, Engr 100 and Physics
Taught by
Student members of Tau Beta Pi
Location
Brevard Hall 138
Time
Tuesday and Wednesday
6:00 - 8:00
Electrical Engineering
Subjects
Undergraduate Electrical Engineering courses
Taught by
Student members of Eta Kappa Nu
Location
Brevard Hall 138
Time
Tuesday
6:30 - 7:30pm
---
Contact
Megan Upchurch Miller
Assistant Dean, Undergraduate Programs
Brevard Hall 215
662-915-5699
megan2@olemiss.edu