2014 civil engineering graduate Rafaelle Souza set to lead the Brazil team in the 2023 Women World Cup 
---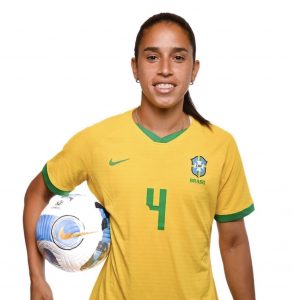 Rafaelle Souza made her way from Salvador, Brazil to Oxford, MS to study civil engineering in 2011. She chose Ole Miss because she could study civil engineering and pursue her passion for soccer.
And, now she's heading to the 2023 Women's World Cup in Australia and New Zealand as the captain of the top-ten Brazil team.
Her time at Ole Miss
Souza excelled both on the field and in the classroom.
During her three years with the Ole Miss Rebels, she made a record-breaking 44 goals. And she was a fan favorite. According to civil engineering professor (and fellow Brazilian) Cris Surbeck, "a lot of children went to watch her matches here at Ole Miss, and she was always very friendly with them."
She achieved this all while being a top student academically. Several civil engineering professors encouraged her to undertake her graduate studies at Ole Miss, but understood her athletic ambitions.
"Rafa was a really intelligent student – she got really high grades on exams. She was always in class and paying attention with a great attitude, along with handling a really difficult soccer schedule."
– Cris Surbeck, Chair and Professor, Civil Engineering
Football first
Since she graduated, her focus has been on soccer.
She started her professional career with the Houston Dash, followed up with teams in Brazil and China. Most recently, she played with London-based Arsenal, where she was the first Brazilian player to wear the Gunners uniform.
She's also represented Brazil in the international arena, including FIFA's Women's World Cup, the Olympics and the Pan-American Games.
Engineering in her future
Souza told FIFA, "I want to work as a civil engineer in the future, but I'm fully focused on football right now. It's paid off for me and I'm doing things I never thought I'd achieve."
She continued, saying "I love engineering, though, and I hope I can find work in the industry in the next few years. I'm thinking about starting my own company, but that's about four or five years down the line, once I've stopped playing."
No matter which direction Rafaelle Souza chooses – Ole Miss is rooting for her!
Helpful links
Rafaelle Souza on Instagram
Rafaelle Souza's journey – YouTube interview
Ole Miss Soccer on Twitter