Dear Ole Miss Engineering community,
Coronavirus, COVID-19, unprecedented times, uncharted territory, pandemic, social distancing, flatten the curve, course conversion, Zoom meetings …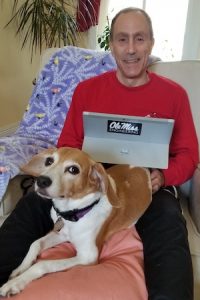 These words and phrases are now forever ingrained in our vocabulary.
The recent, widespread disruptions, and those yet to occur, have undoubtedly affected our lives, and perhaps done so permanently. As engineers and scientists, we critically evaluate data to make informed decisions. We determine solutions and solve problems. Analysis of the data regarding the novel coronavirus (COVID-19) reveals an exponential progression of cases and the need for social distancing to minimize disease transmission.
For universities, including ours, the safety and health of students, staff and faculty is our highest priority.
The Ole Miss Engineering community has been tremendous during these trying times. The school leadership has been holding videoconferences every morning to figure out innovative ways to manage the rest of the semester….and share a bit of humor. Faculty members are holding their courses in one of the many alternative educational formats to support academic progression of our students. Staff members are working to maintain "normal" operations and support the students and faculty, even if doing that from home.
And our Rebel Engineer students have been patient with us through their extended spring break, adjustment to remote instruction, and restart of their classes from across the country and around the world.
It looks like my record of presiding over the School of Engineering commencement in the Circle is going to be 0 for 2. Last year, inclement weather won out. This year, the pandemic means we'll need to defer commencement with its beautiful ceremonies in the Grove and on the Circle.  The important consideration is graduation – which will occur as students complete their degree requirements.
Campus is eerily quiet these days, different from spring break or the winter break. It is odd to see the Woods Lounge in Brevard completely empty and walk through the Carrier Annex without hearing students working in the "sweat shop." It's strange not to have the spring parade of prospective students, full of anticipation and excitement, visiting campus.
Things will return to normal eventually, hopefully sooner than later, and in all likelihood better in many ways. Additional challenges are ahead, but together, we will weather this storm.
God granting, we look forward to seeing you on campus this fall, perhaps at tailgating in front of Brevard Hall in the spirit of revived campus life as we kick off the next era of Rebel football.
Stay well and strong!
Dave
---
Helpful info
COVID-19 ENGINEERING UPDATE: answering your questions about school activities
COVID-19 OLE MISS UPDATE: latest information from the University of Mississippi