B & B Concrete's unwavering commitment to academic support and community outreach has left a lasting impact on Ole Miss Engineering students and faculty
---
K-12 outreach
The company facilitates K-12 outreach efforts and engineering summer camps, benefiting a wide range of students in our local community.
B & B Concrete generously provides materials that are being used to create STEM aquifer and filtration kits, enriching the educational experiences of K-12 students and exposing them to the world of civil engineering early.
B & B Concrete is an amazing resource for us. They've been very helpful for a lot of our efforts, not just for university students, but also for local middle and high school students.
– Grace McMahen Rushing, Ole Miss Civil Engineering Lecturer
Facility tours
One of the most notable aspects of their contributions is the annual B & B Concrete facility tour, where junior students explore the company's plant in Tupelo, MS.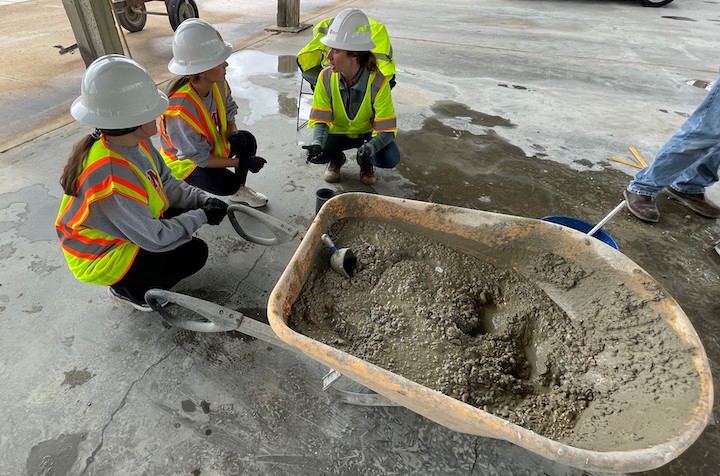 Students get to witness the practical aspects of concrete production and learn about quality control testing, providing them with valuable real-world insights.
The Ole Miss Engineering students were pleasantly engaged during the presentation and excited to dive into the concrete during the hands-on elements of the visit. Students asked impressive questions and genuinely seemed interested in the product and process of what goes into making a yard of concrete from start to finish.
– Don Burrone, B&B Concrete's Director of Technical Services
Students have the chance to connect with experts in the concrete industry. Previous speakers have included representatives from the Mississippi Department of Transportation and B & B Concrete's distributors.
This experience broadens their horizons and lays the foundation for future career opportunities.
Lab materials
B & B Concrete also donates essential materials such as sand, pea gravel, cement and cylinder molds to support the concrete labs for civil engineering upperclassmen.
We believe that this activity has proven very beneficial to not only the undergraduate engineering students but also our staff and some of our valued material vendors.
– Bill Waters, PE, B&B Concrete Vice President & Company Engineer
Without these material donations, undergraduate students would miss out on valuable hands-on learning experiences.
A big thank you
B & B Concrete's ongoing support has enabled Ole Miss Engineering to deliver high-quality education, engage in meaningful outreach initiatives, and foster connections between students and professionals. We are truly appreciative of this partnership.