NFL pro Wesley Walls and his wife set up an engineering scholarship geared toward high-achieving students who played sports in high school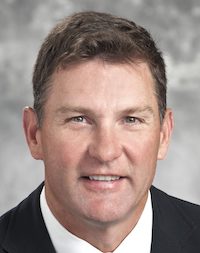 Wesley Walls (1991 general engineering graduate) is a legendary Rebel football player who excelled in the classroom in one of the most demanding fields of study.
He and his wife established the Wesley and Christy Walls Endowed Scholarship, aimed at helping student athletes pursuing a degree in engineering. "We thank Mr. and Mrs. Walls for directing their scholarship to support student-athletes who pursue engineering," said Dean Dave Puleo. "The drive, focus and time-management skills needed to balance participation in athletics while excelling academically serve graduates well in their post-collegiate careers."

At Ole Miss, Walls compiled a 3.41 grade-point average in general engineering and earned Academic All-America honors, as well as being named a three-time Academic All-SEC pick. He was named to the University of Mississippi Athletic Hall of Fame and received an NCAA Postgraduate Scholarship. He also received the National Football Foundation Scholar-Athlete Award.
After 14 NFL seasons, the five-time Pro Bowler retired following the 2004 season with the Green Bay Packers. Walls finished his career with 450 catches for 5,291 yards and 54 touchdowns. Upon his retirement, he was considered one of the premier tight ends in the game.
Today, he works in real estate as a developer, using the degree he received from Ole Miss.
Contact – for school giving
Greg Carter
Associate Director of Development for Engineering
Brevard Hall 204
662 915-3087
gjcarter@olemiss.edu
Helpful info