Water scarcity is a growing problem in America, and five Ole Miss students responded to this challenge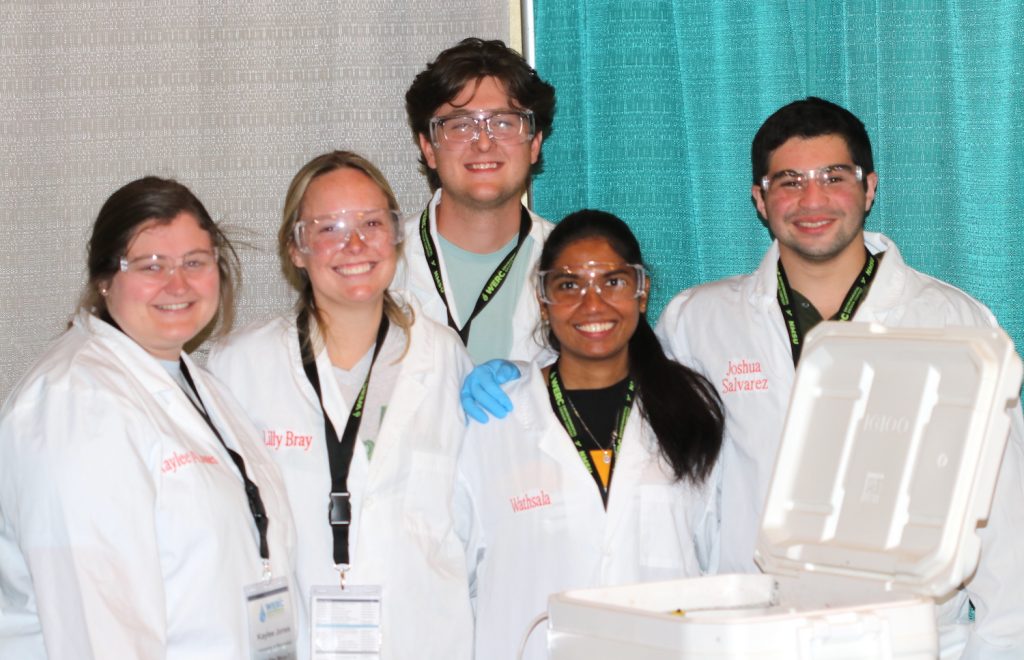 Civil engineering students Lilly Bray, Kaylee Jones, Wathsala Pathiranage, Nick Redwine and Joshua Saralvarez took a course on Water Reuse in spring 2023.
Their professor Matteo D'Alessio designed the class to allow students to think critically and learn to use their engineering judgment outside of a typical classroom atmosphere.
"I thought the WERC Environmental Design Contest at New Mexico State University would be an incredible opportunity for the students. They'd be able to interact with industry, government and other students in looking for solutions to many of today's environmental challenges."
– Matteo D'Alessio, Assistant Professor, Civil Engineering
Understanding perceptions about re-using water
The team wanted to have a better understanding about how people currently consume water, along with their thoughts about potential solutions.
They surveyed members of the Ole Miss and Oxford communities, asking questions like:
Do you drink tap water or do you rely on bottled water?
Who do you trust to say that water is clean?
Where would you feel comfortable using reclaimed water? 
They also used the survey as a tool to inform respondents about potential for water re-use. As team member Lilly Bray said, "people assume the worst, so we wanted overcome some misperceptions."
Exploring ways to clean contaminated water
The team researched water re-use solutions, especially ones that were low-cost and environmentally friendly.
They selected a filtration approach that uses a mixture of sand, sawdust and charcoal – all placed underneath a layer comprised of earthworms and their soil habitats. Lilly explained that "red worms are the best because they self-regulate. If there are too many worms, they just stop procreating."
The team tested their approach on water collected at the University of Mississippi Wastewater Treatment Plant. They were surprised and pleased with how effective the system was in removing bacteria, sediment and nutrients.
It was only when they arrived at the competition in New Mexico that they discovered how innovative their approach was.
Heading to competition
The competition kicked off with a flash talk – a Shark Tank-style pitch. The Ole Miss team had never participated in this event and didn't quite know what to expect. But, Nick handled it smoothly.
On the next day, Kaylee and Lilly gave a 15 minute presentation on the project, followed by a Q&A session.
"I'd been nervous practicing in front of people at Ole Miss, but not at all at the conference. I guess it was because I didn't know them. This experience really built up my confidence."
— Lilly Bray
The judges were clearly intrigued by the worms, and focused most of their questions about them. By contrast, the judges asked the other teams about costs. At that point the Ole Miss crew knew their project stood out.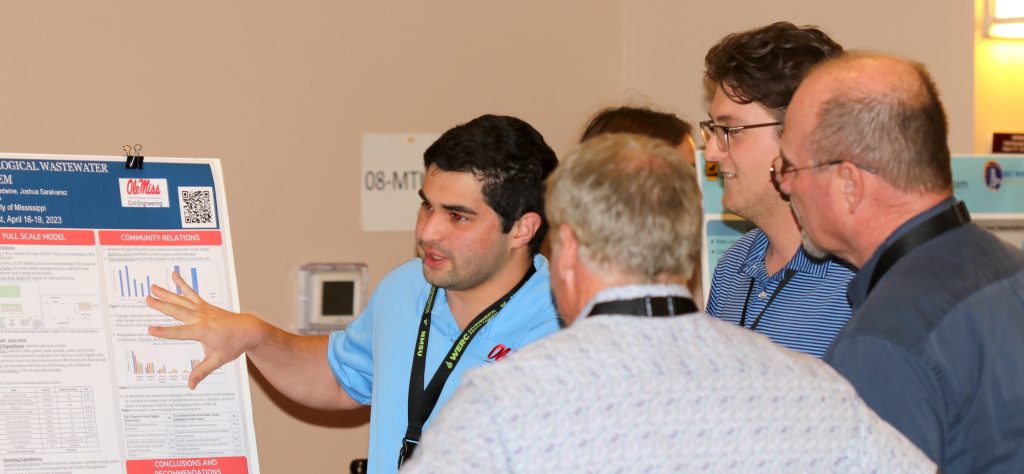 Wathsala, Nick and Joshua took the lead on the poster session, and all contributed to the final phase where they demonstrated a bench-scale model of their project.
The judges were full of praise. They highlighted that the team "had great delivery and it did not seem overly scripted – they seemed natural and confident". They said "the team had an innovative design and demonstrated great understanding of the task requirements."
And finally, the judges said the team "did a good job of explaining the issues they had with worms and discussing things they would improve if they could start over."
Winning the top prize
All their effort paid off. They walked away with the Freeport-McMoRan Innovation in Sustainability Award, which comes with a $2,500 grant.
And, as important as winning the prize, the students said the contest allowed them to improve their public speaking and presentation skills, while being a rewarding research experience.

Helpful info
Civil engineering
Civil engineering research
Engineering news