As a child, Ole Miss geology student Elsie Buskes loved dinosaurs.
She planned on studying paleontology to pursue this interest – until a super internship opportunity sparked her interest in geophysics, especially issues related to water quality.
Her passion for this field is why she is the sole undergraduate recipient for this year's Environmental and Engineering Geophysical Society (EEGS) scholarship. The $1,000 award goes to students interested in pursuing a career in near-surface geophysics to help meet the challenges of the future.
Elsie will be recognized for this honor at the 2024 Symposium on the Application of Geophysics to Engineering and Environmental Problems, as well as having her essay published in the EEGS news magazine.
This award is a testament to the hard work and dedication Elsie has put into her work, and I am proud of her accomplishments to date. I hope this award will serve as a springboard for greater achievement in her study.

– Leti Teklu Wodajo, Research Scientist, National Center for Physical Acoustics
Learning about water problems
In January 2022, Elsie heard about an internship with the National Center for Physical Acoustics (NCPA) through an Honors College email.
The porous media group within the NCPA was looking for a geology or geological engineering student who could help with their research into drinking water problems in a time of increasing population demand. It'd require the use of geophysics to help discover water sources and determine the best way to extract it.
Elsie explained that she didn't know much about the field, but she was excited to learn about it.
She spent her first months undertaking preliminary research tasks under the guidance of NCPA research scientist Leti Wodajo. Basically, this helped Elsie gain basic physics knowledge and learn how to apply to real situations.
By the summer of 2022, she was able to take part in her first geophysics survey. The team used electrical resistivity tomography – a technique using multiple electrodes to investigate groundwater and soil moisture.
I learned tons about surveying methods. We were looking for an aquifer at the Ole Miss Field Station and trying to figure out the best place to drill a well.

– Elsie Buskes
The team presented their findings at the Geological Society of America and Mississippi Water Resources Conference, and Elsie gave an explanatory talk at the Ole Miss Field Station.
Elsie's work for the NCPA will be the basis for her honors college thesis.
Wodajo highlighted that "this is a great example of the collaborative work between the School of Engineering and the NCPA, where students gain hands-on research experience tackling pressing problems the nation is facing."
Expanding her knowledge
Like all Ole Miss geology and geological engineering (GGE) students, Buskes spent two weeks at field camp in Oklahoma as course credit.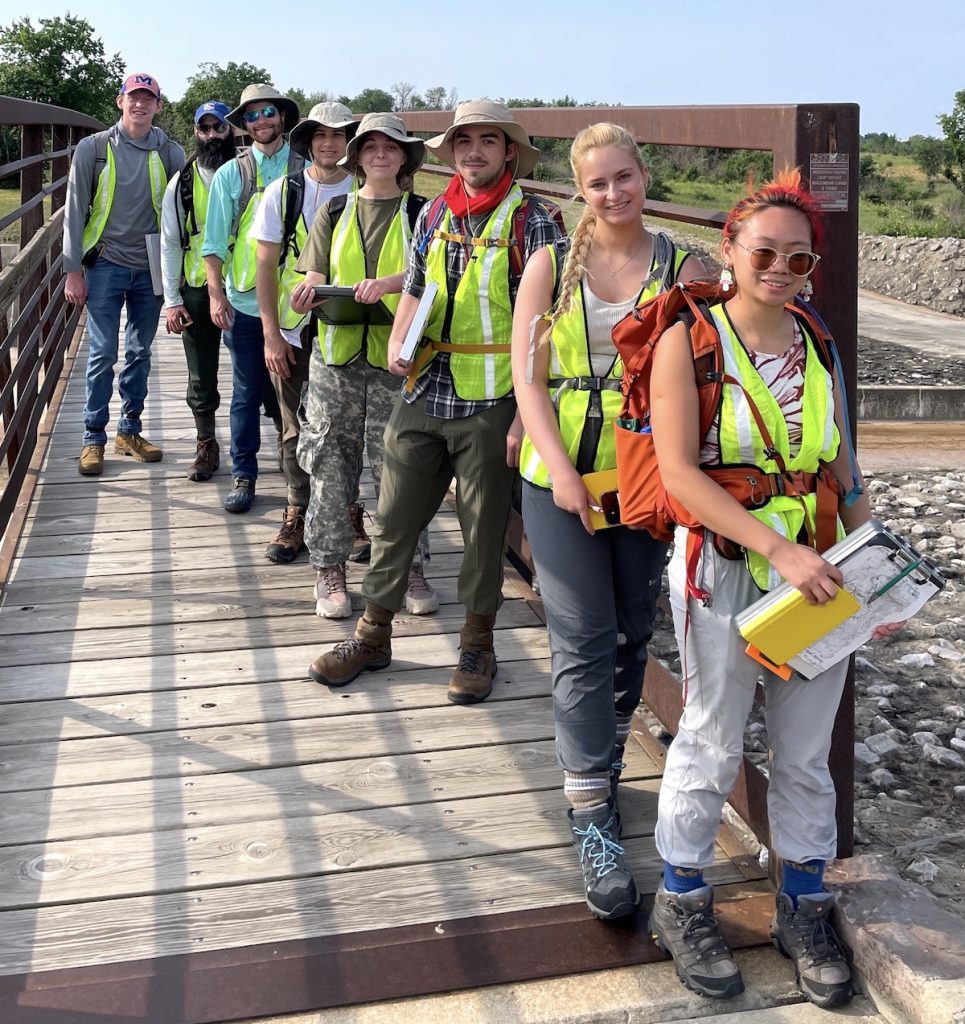 In the classroom, she'd used cardboard to learn how to measure strike and dip – the convention for describing the plane orientation of a geologic feature. But, at the 2023 field camp, she was able to put this into practice, identifying mineral structures and characteristics.
"I was able to take my textbook knowledge and actually apply it. It was great to take measurements on real bedding surfaces. I definitely learned a lot."

– Elsie Buskes
She also learned about working with others.
She and the other students were tasked with estimating the cubic volume of rock at a historic site known as Ten-Acre Rock. Some students walked the perimeter, measured the height and calculated the volume from there. Others used GPS and geometry to try to solve the problem, while another group took a calculus route.
I think it was better to let people do what they want and pull the data together at the end. That way, everyone could test out their approach and learn from others which way was the best.

– Elsie Buskes
She also worked on a U.S. Geological Survey research project for GGE professor Jennifer Gifford. Five students helped map out a small section of the Big Horn Mountains – at a dizzying height of 9,000 feet and higher.
Elsie is from Oxford, MS. She's a junior, majoring in Geology and participating in the Sally McDonnell Barksdale Honors College.