Mechanical engineering graduate student – and Ole Miss track team member – Ben Savino selected for prestigious research fellowship
---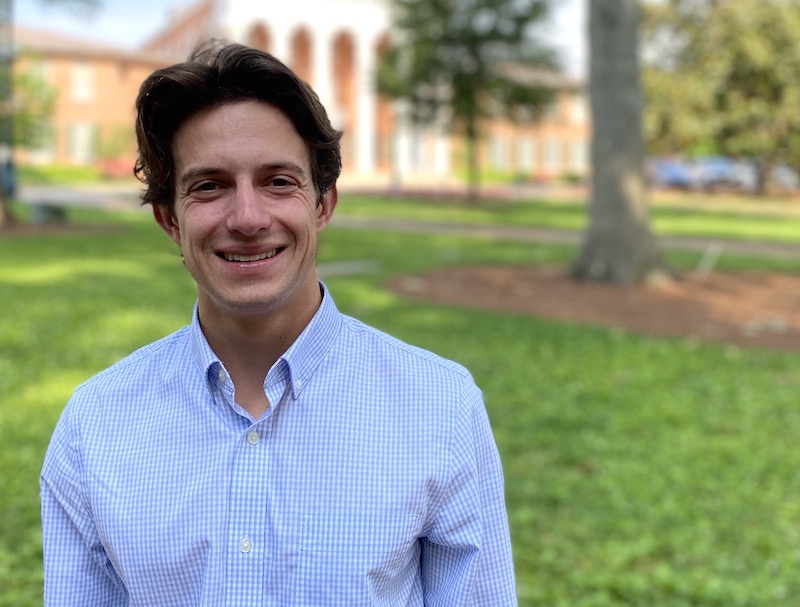 Ben Savino is using his National Sciences Foundation Graduate Research Fellowship Program (NSF-GRFP) award to continue studying turbulent fluid flows for aerospace applications.
"I'm interested in understanding how liquids and gasses interact with fixed structures – this is such an unknown field, with so much to learn," said Savino.
"Airplane wings today are made of metal. With better insight into how they interact with atmospheric fluids, we could potentially develop wings made of more flexible materials. And, this could help the plane become faster and more energy-efficient."
He believes this has the potential to change modern day air travel for the better.
Prestigious recognition
The NSF-GRF program recognizes and supports outstanding graduate students in NSF-supported science, technology, engineering and mathematics disciplines who are pursuing research-based master's and doctoral degrees at accredited U.S. institutions.
The five-year fellowship includes three years of financial support and an annual stipend. The GRF program is highly competitive, with about 14,000 applicants for 2,000 awards.
Savino is one of three Ole Miss students who received the NSF-GRF award in 2022.
He has also received recognition as a student-athlete, as a NCAA's Walter Byers Postgraduate Scholarship finalist and a Brad Davis SEC Community Service Award recipient.
A supportive environment
Savino noted that much of his academic success is due to the faculty guidance he has received, particularly from Dr. Wen Wu, assistant professor of mechanical engineering.
"Some of what I'm doing – like coding – is completely foreign to me. Dr. Wu will sit with me for hours to help me understand how a simulation works. Dr. Wu has provided tremendous support not only in research but in my development as a whole."
Wu said he believes the fellowship will allow Ben to follow his intellectual curiosity and passion to pursue research that matters in the world.
"I have full confidence that he will be very successful in his graduate education and beyond," he said. "Moreover, his success also reflects the sustained excellence of our undergraduate and graduate programs and our students."
Getting to Ole Miss
For his undergraduate degree, Savino was looking for a university that had both engineering and track – and some Southern friendliness. A high school coach suggested he look at Ole Miss.
He explained that "there are good engineering schools in North Carolina, but I wanted a little distance from home. And, when I began doing undergrad research with Dr. Wu, I knew this was exactly where I wanted to be."
"At Ole Miss, I've had first-hand experience of meaningful research. It's been great to watch it happen, and now I'm starting to be part of it."