A junior in biomedical engineering, Abigail is involved in several programs that are sure to further her career goal as a researcher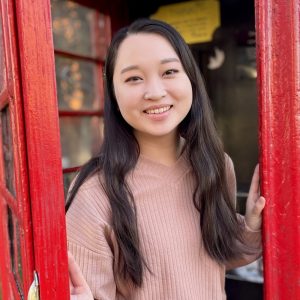 She explains how these activities – on campus, in the field and even abroad – provide her with skills that'll help with her undergraduate degree and beyond.
Chinese Flagship Program
The Chinese Flagship program at Ole Miss is one of just 13 in the United States. It offers study abroad experiences, a Chinese language major, and opportunities to learn about Chinese culture.
Abigail chose to be a part of this program for two reasons. One, she wants to reconnect with her personal and cultural background. And, two, she wants to combine her Chinese major with her biomedical engineering major to create a personalized experience.
During the summer of 2022, Abigail studied abroad in Chiayi, Taiwan at National Chung Cheng University (國立中正大學). She was able to visit many historic sites in other cities like Taipei, Tainan, and Taichung and took classes in Mandarin.
"I believe it is really important, especially in a STEM field, to have multiple language experiences and multicultural experiences. It will be  greatly beneficial in the future when collaborating with others."
Biomedical Engineering Society
Back on campus, Abigail is currently serving as the president of the Biomedical Engineering Society, or BMES.
"I want biomedical engineering students to have the best opportunities to get to know other biomedical engineering students – a space where they can network, learn more about the BME field, or just talk to other students in their program."
In a program that is academically rigorous, sometimes it is hard for students to meet others in their major and develop relationships. So, one of Abigail's priorities is to organize networking activities for students in the department.
She aims to have monthly meetings, with opportunities for the members to discuss coursework or other BME-related topics and to have some fun, like painting pumpkins. She is also bringing in guest speakers to discuss their work in the field. For example, professor of practice Troy Drewry talked about his experience in orthopedic implants and instrumentation, as well as discussing the Center for Diagnostics, Design, Devices and Biomechanics that he helped set up on campus.
She works closely with faculty advisor Dr. Nikki Reinemann, a recent recipient of a National Institute of Health grant of $1.5 million to work on research in molecular biophysics and cell cytoskeletal machinery.
Center for Manufacturing Excellence
Abigail is also pursuing a minor in manufacturing through the university's Center for Manufacturing Excellence.
"The CME provides students with a holistic understanding of the engineering, business, and accounting sides of manufacturing. I have learned how to look at engineering through several different lenses, especially regarding manufacturing processes."
Through the CME, she has taken advantage of hands-on learning opportunities. A trip to the Saf-T-Cart manufacturing plant in Clarksdale, MS stuck out to Abigail. She and other CME classmates applied their knowledge of Lean Manufacturing to help improve the efficiency of a process for manufacturing one of the company's gas transport products.
Abigail is making the most of her undergraduate experience at Ole Miss. Looking ahead, she plans to go to grad school and pursue a career in engineering research.
"I would not have been able to have the opportunity to combine all of these disciplines, with all these special programs, at another university and that's why I chose Ole Miss."