Welcome to Ole Miss Engineering! Find out how our school operates and get ready for your first semester with us. Here's what you need to do for our orientation day.
---
First step: get an academic overview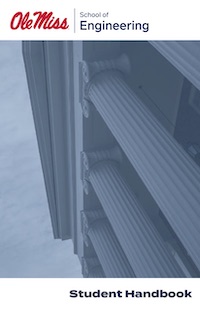 What GPA do you need to maintain? Is there an honor code? How do you plan your course schedule? Can your parents see your grades? Find out the answers to these questions and much more in our orientation materials.
> Engineering orientation video – with presentation available to download
> Engineering student handbook
> Course requirements for each major
Please review these before meeting with your department advisor.
9:00-11:00: Meet with your department advisor
You should hear from the department directly – with Zoom meeting details and other forms they might ask you to fill out. Contact engineer@olemiss.edu if you have not heard from your department or if you would like to change your major.
11:00-1:00: Register for your classes
You register for classes at myOleMiss.
> Registration tutorial – this 2-minute video shows you everything you need to do
1:00-1:45: General Q&A session
The Dean's Office will be available to troubleshoot any registration issues and answer any questions you may have.
Zoom meeting details
Meeting ID: 983 1836 1547
Web access: https://olemiss.zoom.us/j/98318361547
One tap mobile
+19292056099,,98318361547# US (New York)
+13017158592,,98318361547# US (Germantown)
---
Start thinking about engineering outside of the classroom
Check out ways to enhance your personal and professional skills with our cross-discipline organizations and professional societies. And, watch our co-op video to see why our students rave about getting this real-world  experience.
> Student organizations
> Coop video
---
Get in touch with us
The Dean's Office wants to make your time with Ole Miss Engineering a success. And we are here to help you – whether it's academic, professional or general advice.
> Meet the team
---
Orientation contact
Megan Upchurch Miller
Engineering Dean's Office
megan2@olemiss.edu
662-915-5699